The Best Western Plus Hood River Inn
Awards and Honors
Hood River Inn G.M. awarded 2019 Oregon Lodger of the Year

Chuck Hinman, General Manager of the Best Western Plus Hood River Inn, was awarded Lodging Operator of the Year by the Oregon Restaurant & Lodging Association (ORLA) at its annual Hospitality Conference in Seaside on September 17, 2019. Learn more here
100 Best Fan-Favorite Destinations in Oregon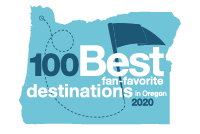 For the 4th year in a row The Best Western Plus Hood River Inn and Cebu Lounge were ranked by our guests as 100 BEST Fan-Favorite Destinations in Oregon for 2020!
Most-Reviewed Oregon Hotel on TripAdvisor

The Best Western Plus Hood River Inn is currently the 6th most-reviewed hotel in State of Oregon. We've steadily held a top hotel spot in Hood River on TripAdvisor for several years.
Oregon Business Magazine Power Book

In January, 2018, Oregon Business Magazine once again included the Best Western Plus Hood River Inn in its Meeting Facilities Power Book.
Best Western Chairman's Award

In 2016, the Inn earned Best Western International's highest hotel chain honor, the Chairman's Award for "Outstanding Quality Standards."
Champion Award of Design

Each year, Best Western selects eight hotels throughout the U.S. and Canada that are "stellar example of the exceptional level of quality and beautiful aesthetic that Best Western strives for" and honors them with Best Western's Champion Award in Design.
Hood River Inn Golden Anniversary 2017

One of the Hood River Inn's biggest honors is its longevity in business. In 2017, the Inn celebrated its 50th Anniversary.

Consistently in Top 3 restaurants in Hood River on TripAdvisor

We've steadily held a top 3 spot out of 86 restaurants in Hood River for over 3 years, which is no small feat considering the breadth of excellent dining establishments in town.
Wine Spectator Award of Excellence

Riverside has earned this prestigious restaurant wine list award for seven years in a row. A Wine Spectator Award of Excellence is earned for wine lists that offer at least 90 selections.
Oregon Wine A-List Regional Spotlight Award Winner
Oregon Wine Board and Oregon Wine Press collaborate to select and publish restaurant awards for the best wine lists with quality representation from the State. Riverside has earned the award every year since its inception in 2014, and in 2017, we were also bestowed the regional honor of the Spotlight Winner.
Best Western Plus Hood River Inn • 1108 East Marina Way • Hood River, OR 97031 • 800-828-7873